FinnRover Loue follows a tradition which started all the way back in 1930s, when A.E. Järvinen designed his open-fire-shelter. Later in the 1960s this shelter was redesigned by A.E. Järvinen as the Lapin-Loue. The loue was slowly forgotten, but after another 30 years in the 1990s bushcraft instructor Nalle Corander worked to reintroduce the shelter. Outdoor-journalist Joppe Ranta became fascinated of the shelter as a boy scout and started to gather information about the shelter for an article. That's how the FinnRover-collection came to be.
The FinnRover-collection is a tribute to the old Finnish outdoor-traditions. The collection includes several shelters, which all have the same shape but in different materials and sizes. The different models have been named after the designer and the original release year and made with historically accurate materials. They all follow closely the model made by Kullervo Kemppinen in the 1960s.
The founder of the FinnRover-shelters is Joppe Ranta and they are manufactured by Lähimetsän Livingstone Oy which sells the products straight to consumers and retailers. FinnRover-products are currently available from retailers in Finland, Germany, Netherlands, France, Denmark and Sweden. Naturally, the shelters are sold at Partioaitta-outdoor stores, which was one of the first stores to sell the Loue-shelter back in the 1960s. The shelters are made at Laatuteltta Ky Vilkman, formerly known as Telttatyö, which used to manufacture the shelters back in the day. The Loue has returned to its roots.
The FinnRover products have been certified to use the Key Flag and Design from Finland symbols to demonstrate that the products has been manufactured and designed in Finland.
Loue M34 (Järvinen) is a traditional model made from thick white cotton with leather reinforcements. It's a breath of history from the times when A.E. Järvinen wrote about the loue in the Hunting and Fishing Magazine. The M34 is the heaviest of the collection, but will surely provide the authentic atmosphere by the glow of the campfire.
---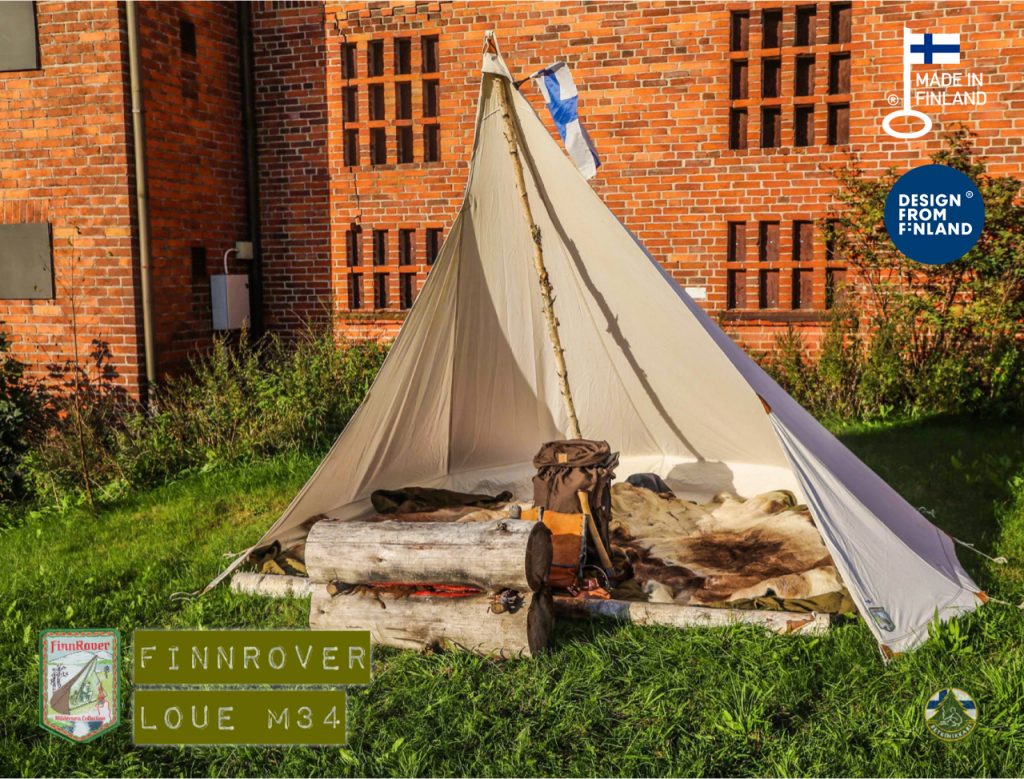 Loue M64 (Kemppinen) is made from green Nylon Taffeta fabric. It is redesigned faithfully from the model that was found from Kullervo Kemppinen's artefacts. It also has the fitting leather reinforcements. Whereas the original loue, sewn by Laila Kemppinen was made completely of brown nylon, this redesign has a silver inside.
---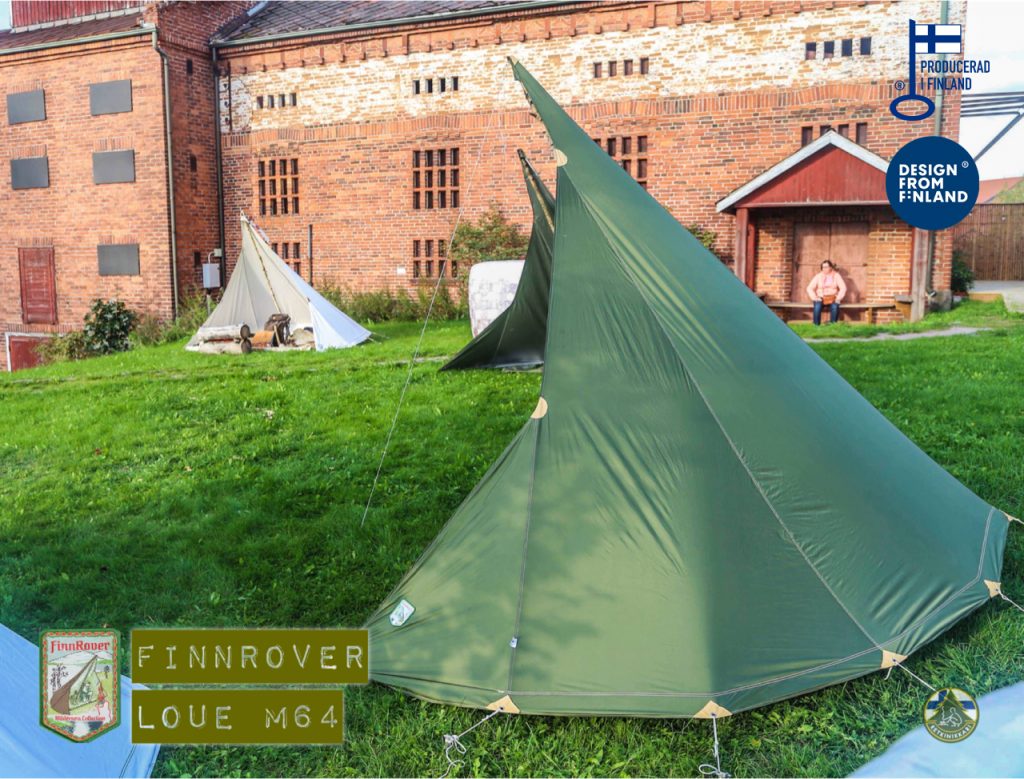 Loue M94 (Corander) is a larger model, made of solid polyester. The measurements are from Nalle Corander's design, which is measured for four people. This model also has a silver inside and leather reinforcements.
---
Loue M16 (Retkinikkari) is a new design faithful to the traditions. It is made of cotton-polyester- fabric (a fabric designed for military winter jackets) which is ripstop. The reinforcements are leather.
---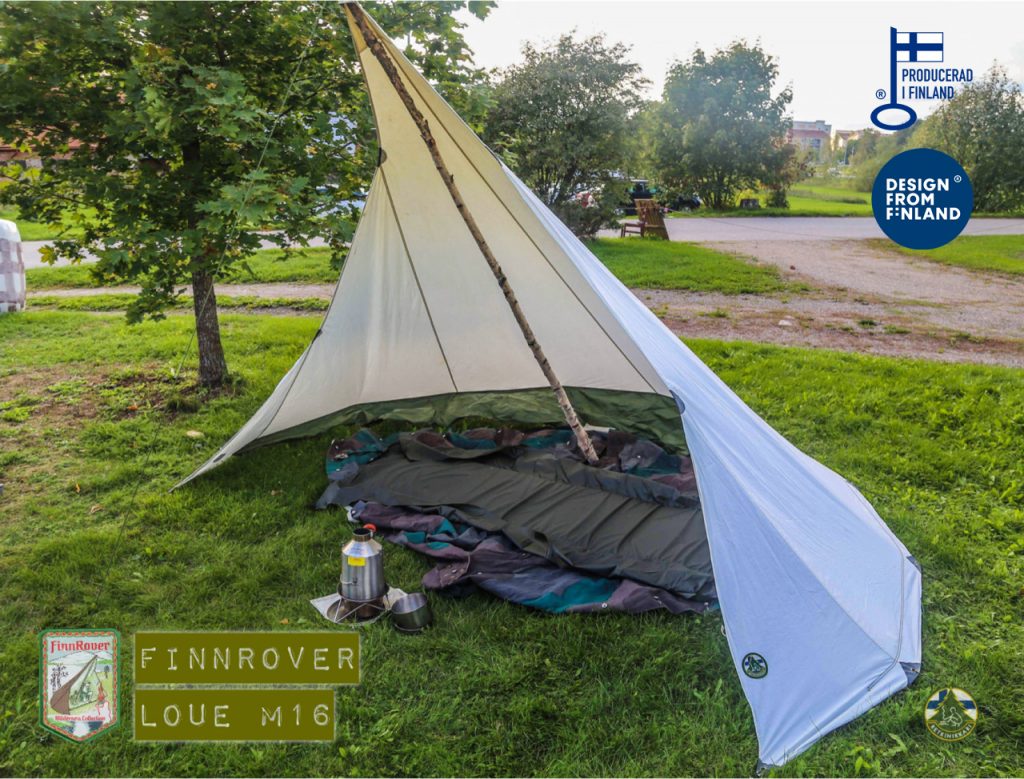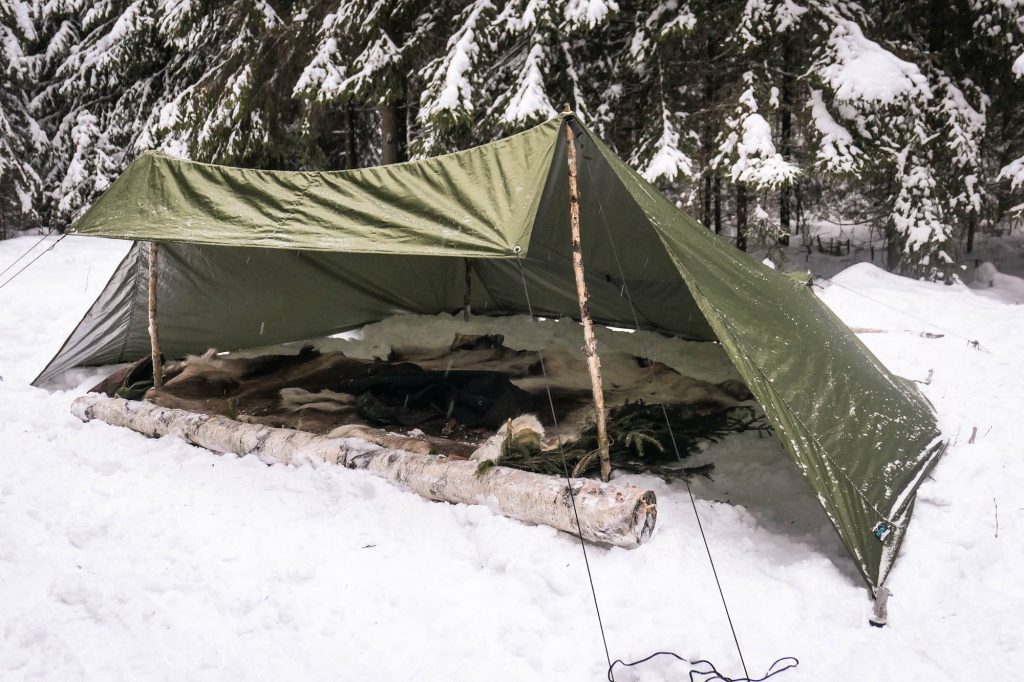 | Model | material | height | weight |
| --- | --- | --- | --- |
| Loue M34, (Järvinen) | | | |
| 2-person model from robust cotton fabric | cotton 265g/m2 | 285cm | 3,3kg |
| Loue M64, (Kemppinen) | | | |
| Lightweight 2-person model | Nylon Taffeta, 70g/m2 | 285cm | 1,0kg |
| Loue M94, (Corander) | | | |
| Bigger model for 2-4 persons | Polyester, 130g/m2 | 330cm | 2,5kg |
| Loue M16 (Retkinikkari) | | | |
| 2-person model | cotton-polyester | 285cm | 2,0kg |
| Laavu M28 | | | |
| Traditional lean-to shelter, 3-5 persons | Nylon Taffeta, 70g/m2 | 140cm | 1,4kg |
| | | | |